BCE405 Stair Climber Machine For Sale | Wholesale Stair Stepper Machine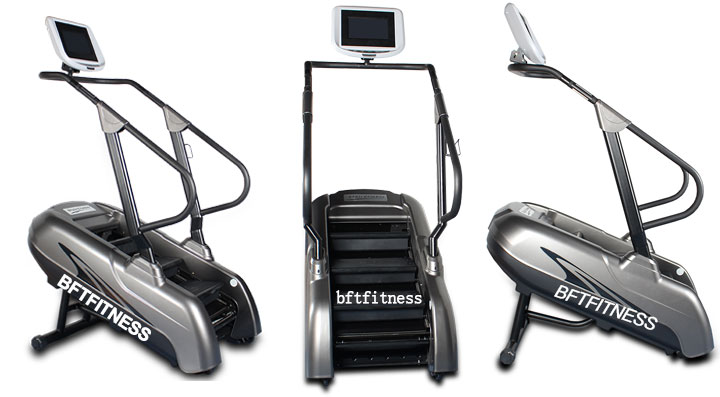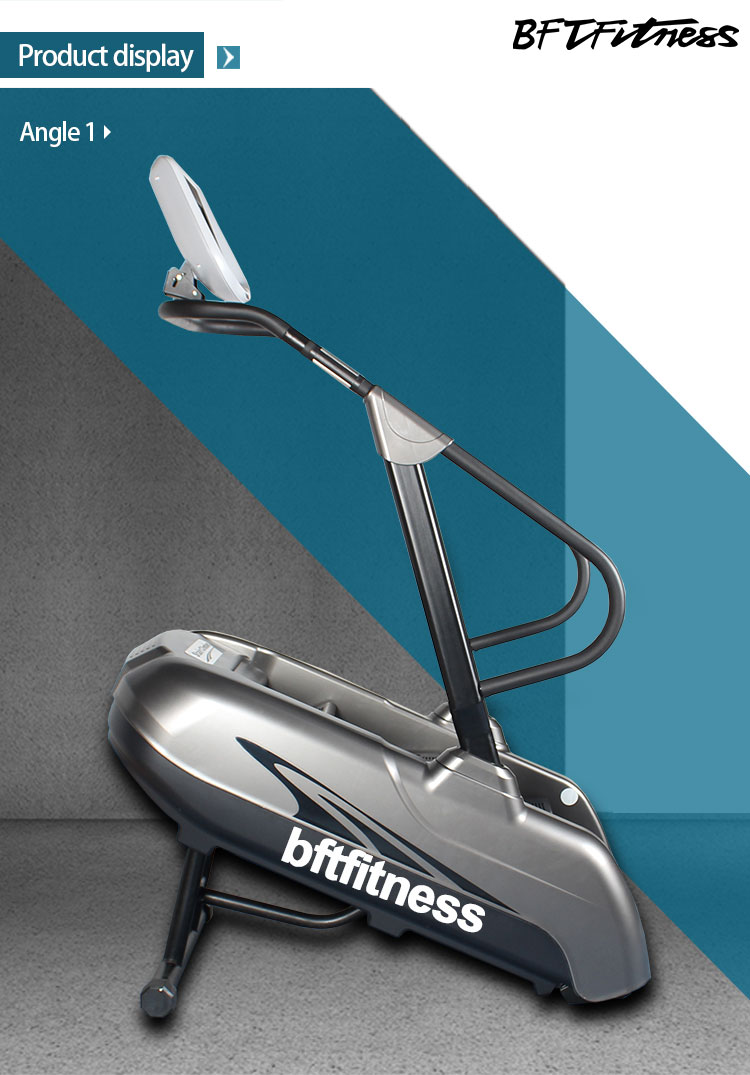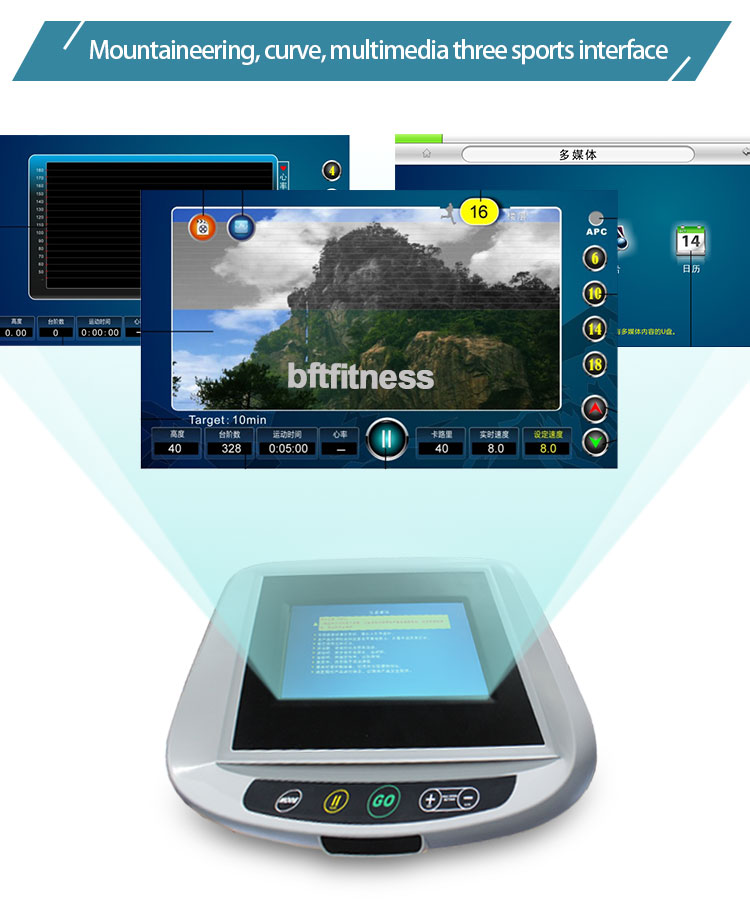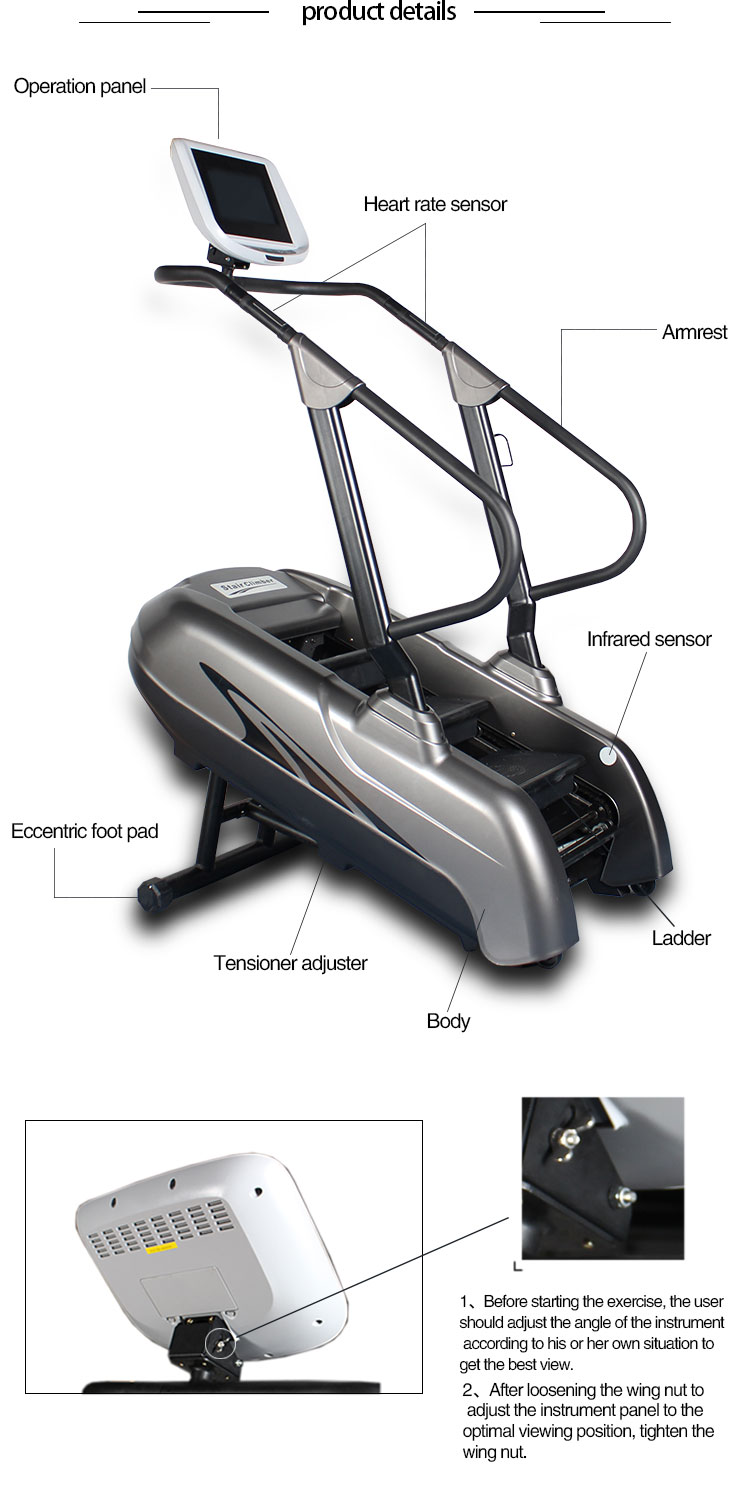 1 Movement mode selection
There are 2 modes for selection, namely target mode, and the auto speed change.
2 go
Click "Go" to start moving.
Click to close the LCD screen.
Click to enter into the multimedia interface. You can select video, music, images, TV, AV, calendar and Bluetooth.
5 Administrator interface
Click LOGO and input the password "66666" to enter into the administrator interface, which can display the serial number, the total height,panel info,driver board version, software version, working voltage, mobile charging current, 5V voltage, 3.3V voltage and external charging voltage in a real-time manner, adjust brightness, set the athletics parameter adjustment coefficient and test the key function.
Click to select Chinese or English.
7 Switch between metric and imperial systems
Click to for switch between metric and imperial systems.
Click to set the system and you can set the language, unit, incremental acceleration and deceleration, standby time, default speed limit, fast speed limit (1, 2, 3 and 4).
Click to enter into the help interface and look over the help.


1. Ensure that the stair climber is installed and used on a stable horizontal surface and the installation base can withstand the body and the user weight.
2. Leave a safety space of at least L 1000mm×W 1000mm behind the stair climber.
3. Please correctly install the machine by referring to the installation instructions and ensure that the connection is secure.
·The product must be stably placed in flat surface and soundly ventilated location.
·Do not let children close to the machine when the people using to avoid accidents.
·Do no sport right after meal.
·Please get fully prepared before sport.
·Please wear the light clothing and sports shoes for exercise.
·Please hold the handle tightly during the sport so as to avoid falling.
·Please keep far away from gang-board during utilization.
·Please maintain the product at regular intervals so as to keep the product safe and reliable.