Seated &Horizontal Shoulder Press
Model : BFT-D01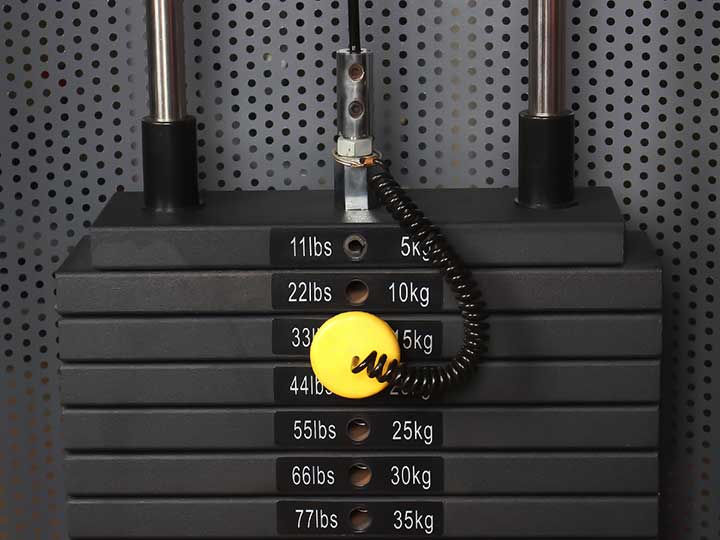 Weight Stack and Guide Rod
High-quality stainless steel weight stack, with shock-absorbing plastic pads between each weight stack, can effectively reduce the noise of collisions.
Users can quickly adjust the weight by using the guide rod according to their own conditions.
There is a magnetic steel ring on the inside of the guide rod head to prevent vibration and fall, bringing an extraordinary safety experience.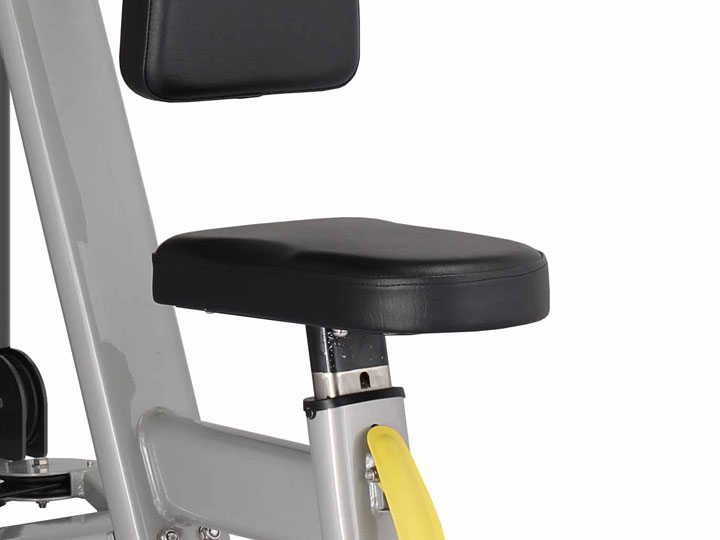 Seat Cushion Adjustment and Seat Cushion Material
The seat cushion height adjuster uses an advanced atmospheric compression spring, allowing you to easily and quickly adjust the position.
Made of PV or PU high-quality leather, a variety of colors are available (usually black, red, brown), the surface is wear-resistant, high-density, anti-leg color.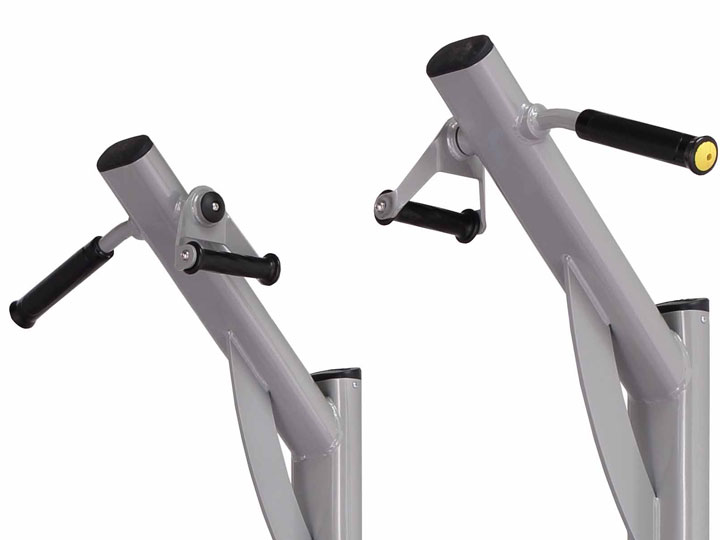 Hand Grip
The handle is made of aluminum alloy, which has the functions of heat resistance and corrosion resistance.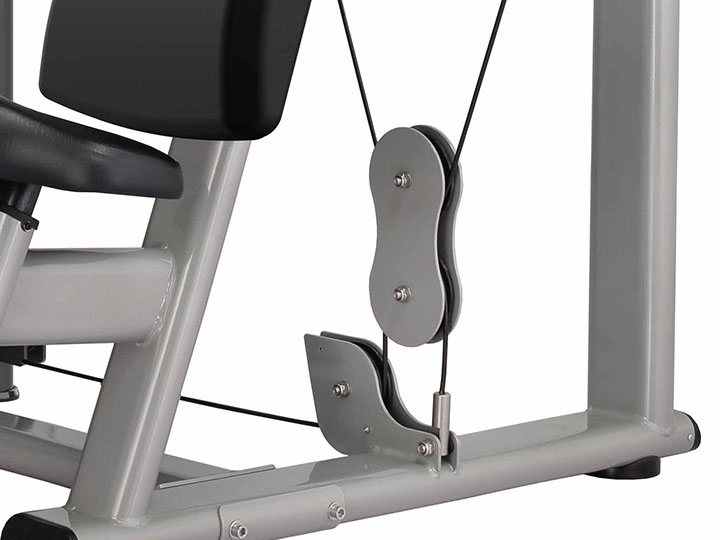 Belts and Pulleys
The pulley is made of nylon mixed with glass fiber, which has low friction coefficient, wear resistance and self-lubricating property.
Combined with steel kinematic bearings, force transmission is silky smooth!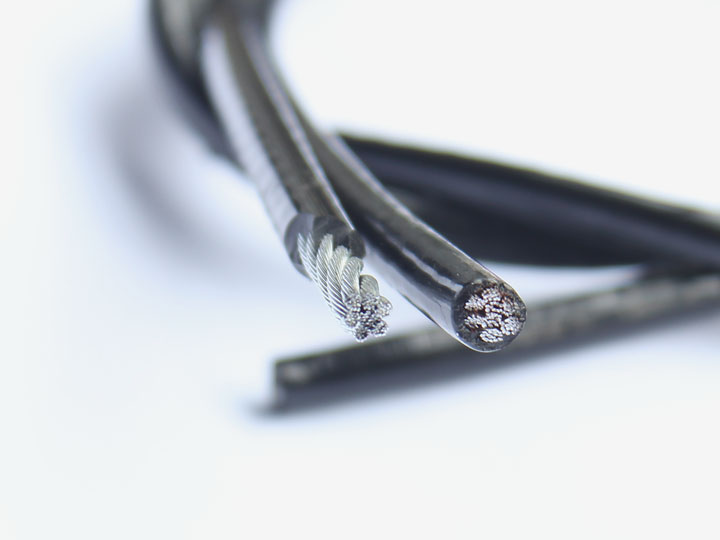 Wire rope
The outer layer is made of high-grade wear-resistant and environmentally friendly PU leather, and the inner layer is 7 strands of stainless steel wire, which is super durable and safe.
TARGET MUSCLES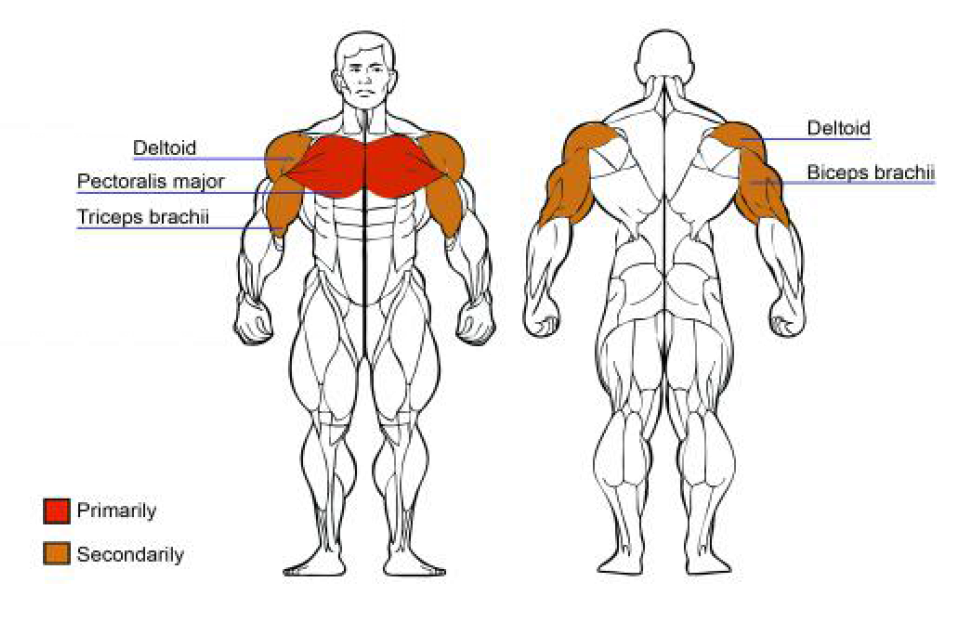 PRODUCT FEATURES
Scientific design brings reasonable structure, simplified and generous look to the unit while quality rectangular tubes used for frame are wellwelded and assembled to bring safety and durability.The movement trajectory complying with the principle of ergonomics and scientifically distributed quality steel cables bring high degree of comfort and safety.
USAGE GUIDANCE
1. Read all warnings and notices prior to using the equipment.
2. Adjust the seat height using the adjustment lever located at the front of the seat. Sit straight with your back against the back cushion.
3. Insert selector pin into weight stack at a suitable resistance level.
4. Grasp handgrips with both hands and push them forward till both arms are straightened.
5. Pause for a moment, and then return to the starting position slowly. Repeat the movement.
Technical Specifications
Main tube
Flat elliptical tube 120*50*3.0mm、100*50*2.5mm & 80*40*2.5mm,round tube 60mm
Gantry frame
Rear cover & Front cover: 3mm metal casing;
Head cover: ABS material;
Hand Grips
Iron core with diameter of 32mm, outer layer of PU anti-slip gloves, both ends are equipped with aluminum alloy decorative covers
Lifting rod
25mm diameter hard chromium steel
Instruction icon
Size: 300*800mm; Material: PVC;
Product instruction icon, detailing product training parts, operating instructions and precautions
Load accessories
Stainless steel guide rod: diameter 25*1.5mm;
Pulley: Hardened integrated PP pulley or aluminum alloy;
Steel wire rope: 7-core imported steel wire with an inner diameter of 5.8mm, the maximum use load is 220 KG
Counterweight device
Guide Rod:With magnetic aluminum alloy head;
Weight Stack:Cold drawn steel Q235 with cushion & Imitation noise buffer pad
Cushion
Three-layer material structure, bottom iron plate, open mold silicone pad, imitation ground PU leather
Seat
Flat tube 80*40*2.0mm stainless steel configuration
Bearings
Luoyang LYC or imported high-speed bearings
Size
1950*1200*400mm
GW/NW
225KG/214KG
Weight
steel 80kg Q235
Function & Muclse
Pectoralis major, deltoid muscle, triceps, biceps
Fit area
Professional gym and club
Seat color
red, brown, yellow, black PU/PVC/ leather
Port
GuangZhou HuangPu port
Packaging Details

1) wooden case with assemble package

2) plateform with unassemble package

3) assemble package with EPE foma and bubble film

Delivery Detail
Stock available within 7 days , No stock 15days-30days