full equipment for gym costs|best gym equipment company
 One of the first steps when considering opening a gym is figuring out if it is financially feasible for you. No matter how good intentioned your gym may be, it will not function if it is not making money. Like opening any other business, opening a gym does take a large amount of capital to begin and there are plenty of monthly expenses to consider.

 Although the cost of opening a gym varies greatly, you can estimate to spend between $10,000 for a personal training studio to $40,000 for a fully equipped commercial gym on equipment alone.

 While it is nearly impossible to give a ballpark estimate that will encompass all types of gyms, we can give a general figure on the cost of each component. We will give you actual numbers instead of vague words so you can begin to put together your business plan. We hope this guide can help you figure out how much opening a gym will cost you and help you decide if this is a path you wish to pursue.

 This will be the bulk of your operation costs and varies significantly depending on size and most importantly location. Location will be one of the largest cost factors and can even vary widely within cities.

 The most important factor is determining whether your location will get enough foot traffic for the cost. Street visibility is important if you do not plan on spending a ton on marketing but it will cost you much more in terms of rent per month. It is also important to take note of the businesses in the surrounding area to help determine if you can siphon some of their customers. For example, being located next to a health food market may attract more customers than being adjacent to an industrial warehouse. Just for a numerical comparison, a 2,000 sq ft space is estimated to cost $5,000 a month in rent in Los Angeles.

Gym Equipment:
 First, you have to determine what type of gym you are. Will you be focusing on strength equipment , crossfit, a standard cardio and selectorized cardio machine set-up or something entirely unique? We have written various blog posts to help determine which type of equipment you should get. A small personal training studio, let's say around 1,300 sq ft, can be properly equipped with around $10,000 worth of equipment. You can easily fit around four treadmills, 2 ellipticals, a dual adjustable functional trainer, racks, dumbbells, and other various strength machines in that amount of space. Commercial gyms usually average around 2,000 to 3,000 sq ft and equipment will run you around $30,000 to $40,000.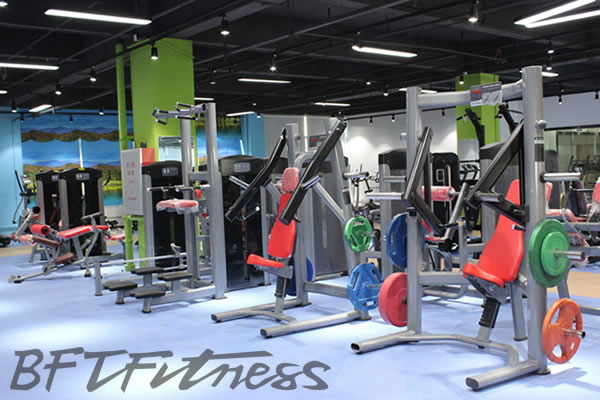 Although it does depend on the size, it is highly unlikely that you will be able to run a gym without any employees. Minimum wage varies from state to state, but if you're going to hire the top trainers that will bring in and retain clients, you will need to pay them a little more. Generally their salaries range around the $25 an hour mark so you can estimate your costs based on your number of trainers from there. You will also need to hire an accountant, maintenance workers, a marketing person/team and the services of a lawyer.

Licenses/Permits:
 The only major license you need as a gym owner is a business license. The cost varies based upon how many employees you have but you should not expect to spend more than a few hundred. Your trainers for your gym will have to be licensed and certified though which also has some costs associated. If you hire already licensed trainers you will be good to go.

Legal Fees:
 It is highly recommended that anyone opening any type of business, but especially a gym, should consult and hire a lawyer. Gyms deal with a large amount of traffic everyday and legal issues are bound to arise so having a lawyer is important for protection. Gyms are also prone to injuries on-site so insurance is a necessity. To avoid further legal issues, putting a clause in the membership contract that prevents them for suing for self-caused injuries is a great idea.

Software:
 There is an entire market out there with dedicated gym management software. Most gym management software is on a subscription basis so you will have to factor that into your monthly budget. Prices can vary from $100 a month to $1,000 depending on how in-depth you would like your system to be.

Conclusion:
 These will be your major costs when opening a gym so it is important to take each one of these factors into account when formulating your business plan. Luckily, we have representatives who have gone through the entire process and opened gyms for themselves and for our customers. Contact us+0086 18027318690 at our gym equipment factory packages page for free consultation to help you get started on opening your gym.