How to layout your gym with an area of 500㎡
  BFT Fitness Equipment Factory is a professional manufacturer and exporter that is concerned with the design, development and production of fitness equipment.Our product range from commercial gym fitness equipment, for instance,strength training gym equipment, Hammer Strength Series,Synergy 360, Commercial Cardio Treadmill, Rowing machine,Elliptical bike, Lifefitness Plate Loaded Series,Spinning bike,Upright exercise bike to multifunction gym equipment and so on.The company also provides free 3D gym design for its customers, and have been design for many gym.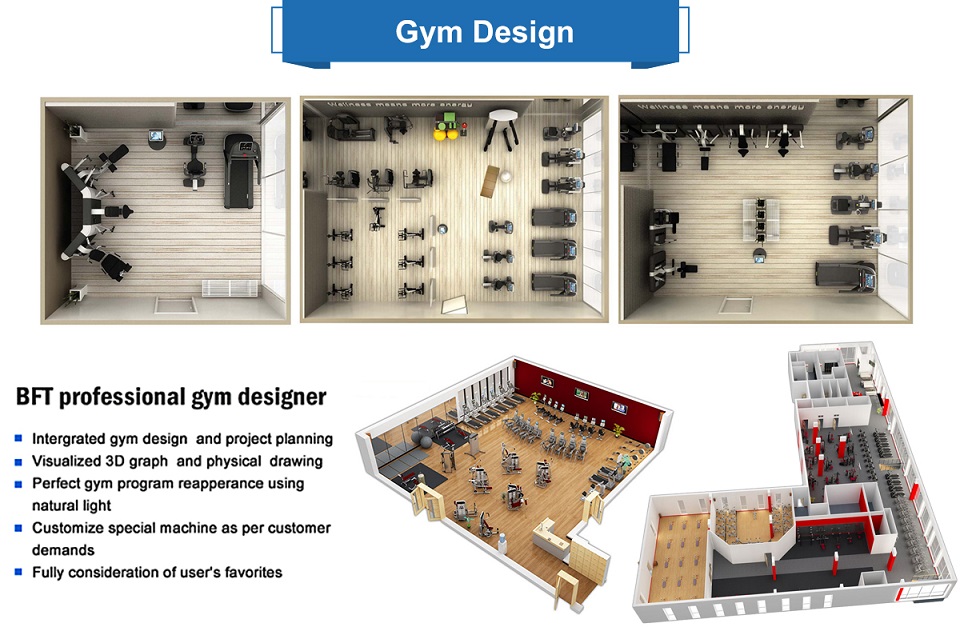 How to layout the gym:
  1.A fitness room with internal equipment should be used for cardio-pulmonary functions (fitness bikes, treadmills, rowing machines) and muscle exercises (weightlifting equipment). It can also include equipment for stretching exercises and healthy dance classes.
  2. Spacious and comfortable dressing room, water-filled shower and toilet. These places should be kept clean from time to time.
  3. Sauna, steam room, hot and cold water massage pool and solarium for relaxation nerves.
  4. Lounge and beverage service.
  5. Massage parlour, beauty salon and hairdressing room. These devices can generate considerable revenue.
  6. Reception, office and storage room.
  7. The larger fitness center can include squash courts, tennis courts, swimming pools and games rooms (table tennis and billiards).
  The fitness center equipment must be of good quality, properly maintained and repaired. Cheap equipment is easily damaged and causes dissatisfaction. BFT equipment is sold at home and abroad, and has won the support and trust of many customers. We help customers from the initial gym to successfully help customers build gyms. In the process, we provide 3D design free of charge and provide customers with one stop service.Therefore, our company has won a lot of trust.
  Below is BFT's detailed list of fitness equipment for 500㎡ gyms.
  The total area is 500 square meters
  These machines are divided into:cardio machine,single function/muti-function and free power machine.

  Single function / multi-function machine: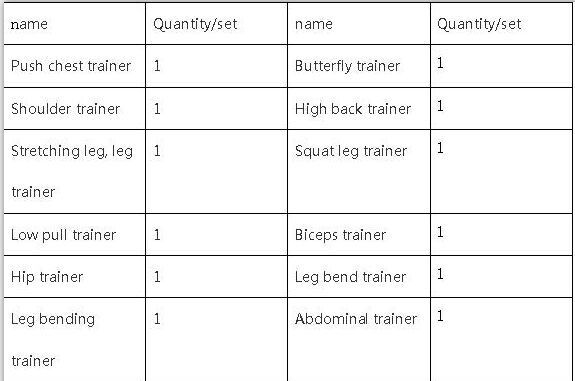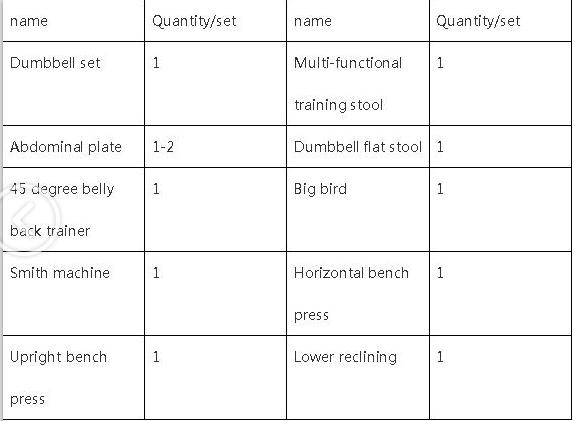 Configuration details are for reference only. If you need more information, please contact us, we provide one-stop service for the gym. We are manufacturer.